Sign up for a free account to get the full potential of IPinfo
IPinfo's geolocation API can be used without needing to create an account and without any authentication. That makes it easy to try out and works well for occasional queries. For more serious usage, we strongly recommend creating an account which will provide you with an API token and offers several benefits over making unauthenticated requests.
Our free account includes the following benefits:
Request limit increase from 1k/day to 50k/month
Email notifications as you approach the request limit
Access to Search to trial our other APIs
Dashboard with real-time request volume information
Request summary emails (weekly or monthly)
Create your free account
No credit card required.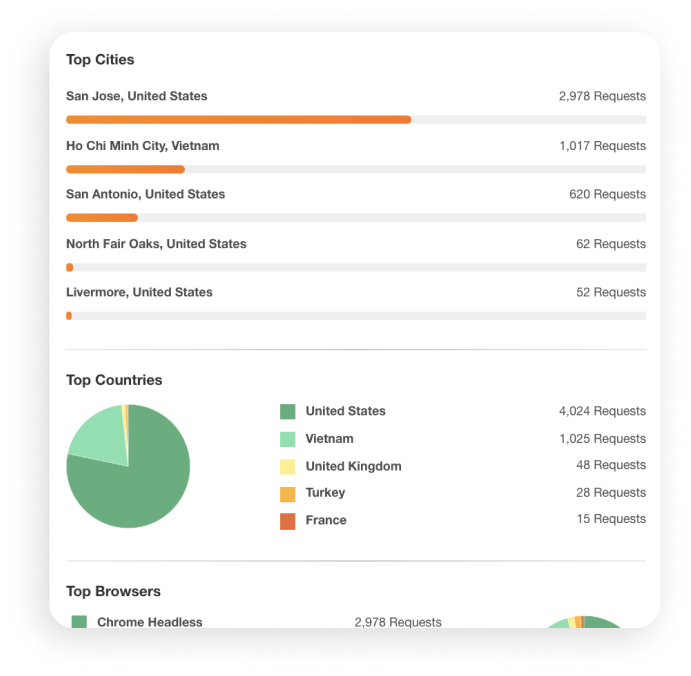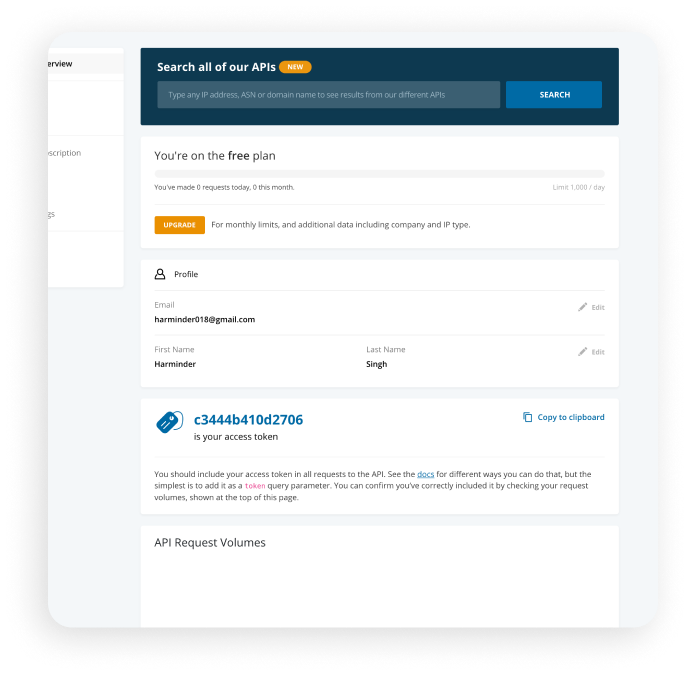 You can read more about making authenticated requests in our documentation.
Read documentation
If you need to make more than 50k requests per month or require other types of IP address data, please consider our paid plans. In them, we offer several other APIs with fast and accurate data.
Plans & Pricing
Some of our famous paid APIs
ASN API
Included starting in our Pro plan, our ASN API offers access to details about every IP's ASN, including the assigned prefixes, related domain, and more.
Read more
IP Ranges API
Enterprise plan customers will have access to our IP ranges API, which can return a list of all IP address ranges assigned to or operated by a company (provided a domain name).
Read more
Our Enterprise services &
downloadable data
If you're an enterprise customer requiring the highest level of service, please take a look at our Enterprise plan for everything you see above and more. We also sell our data in many downloadable formats, which includes RWHOIS and RIR WHOIS data, so check out our Data Download page for more information.
Enterprise Plan
Downloadable Data
Contact us
For any questions or concerns, feel free to reach out to our support team. You can also contact our sales team for any sales inquiries. We're always happy to help!